My experience as part of the FICS Sports Chiropractic delegate at The World Games 2022 – Birmingham USA – Wynn Chua Australia
The World Games is an Olympics recognised, international event allowing athletes from over 100 countries and 40 different sports to compete. The International Federation of Sports Chiropractic (FICS) has more than 3500 members worldwide, 54 of which, including myself, were selected to provide onsite sports chiropractic care. At the core, we exist as every athlete deserves access to sports chiropractic.
It was surreal touching down in Birmingham, Alabama, USA, as the fourth of July fireworks lit the night sky – almost as if to say welcome to the States! The southern charm and hospitality have been phenomenal, and in turn, my Aussie accent had seemingly made their day. We were greeted with such warmth everywhere we visited as their city opened up to post-pandemic tourism. We sampled their signature comfort food like classic ribs and wings, and explored the very city where Martin Luther King Jr and Rosa Parks played an integral part in the civil rights movement. As one of the Chiropractors for the powerlifting athletes, I treated the President of the International Powerlifting Federation, Gaston Parage, daily. I saw a range of presenting complaints such as spinal biomechanical dysfunctions, acute strains and tendinopathies.
In the second half of the games, I cared for the flying disc athletes, more commonly known as Ultimate. A majority of the teams sought care from us for low back pain, shoulder, elbow and ankle dysfunctions. Unfortunately, the two teams who chose not to use our care confided in us that they only did so because their physiotherapists refused to allow it. Sadly this is the reality we sometimes face. Despite this, we continued to offer our services to all athletes, giving equal opportunity and creating easier access to quality care. It was humbling giving a lot of athletes and staff their first adjustment. Our population was mostly divided into two groups; having seen a Chiropractor and was keen to continue care, or had never seen a Chiropractor before and was curious to begin care. A misconception some believed was that you had to have pain or an issue to be seen; however, we focused on injury prevention and improving performance regardless of whether you were an athlete or a volunteer.
One of my greater celebratory moments was sharing the joy with the teams who won gold, silver and bronze in ultimate! They were teams USA, Australia, and Colombia, respectively. Through our long days, we had connected with many of these athletes who often lined up to get adjusted and sought other rehabilitative treatments required, such as myotherapy, hyperice and taping.
Our collective focus for all athletes was injury prevention, assessing functional movement and optimizing human performance. Of course, this service extends to their team, such as the coaches and support staff, who play a significant role in the team's outcome. Other accredited personnel we saw were other members of the medical team, members of local law enforcement, fire and rescue, and the FBI. Another FICS goal is to earn regular Chiropractic representation at the Olympic Games. While Chiropractors support athletes at the Olympics, their participation depends on the host country and individual participating countries, teams and athletes. At the World Games, Chiropractors are as much a part of the healthcare structure as medical doctors and athletic trainers (or physiotherapists).
"To work at an international event, on world champions, in a sport that may not be in the Olympics, is as close as you can get to the Olympics," Dr. Nook explained. "The World Games — which a lot of people don't really understand — features the top athletes in the world in sports that just don't happen to be in the Olympics. It is a chance to work with sports that they may never be exposed to. Most people have never worked on fin swimmers or sumo wrestlers." Chiropractors also have the chance to collaborate with colleagues from around the world and learn from each other. "The friendships and enjoyment that [chiropractors] get out of that is just as strong as the feedback and the fulfilment of treating athletes and accredited individuals during the games," Dr. Nook said.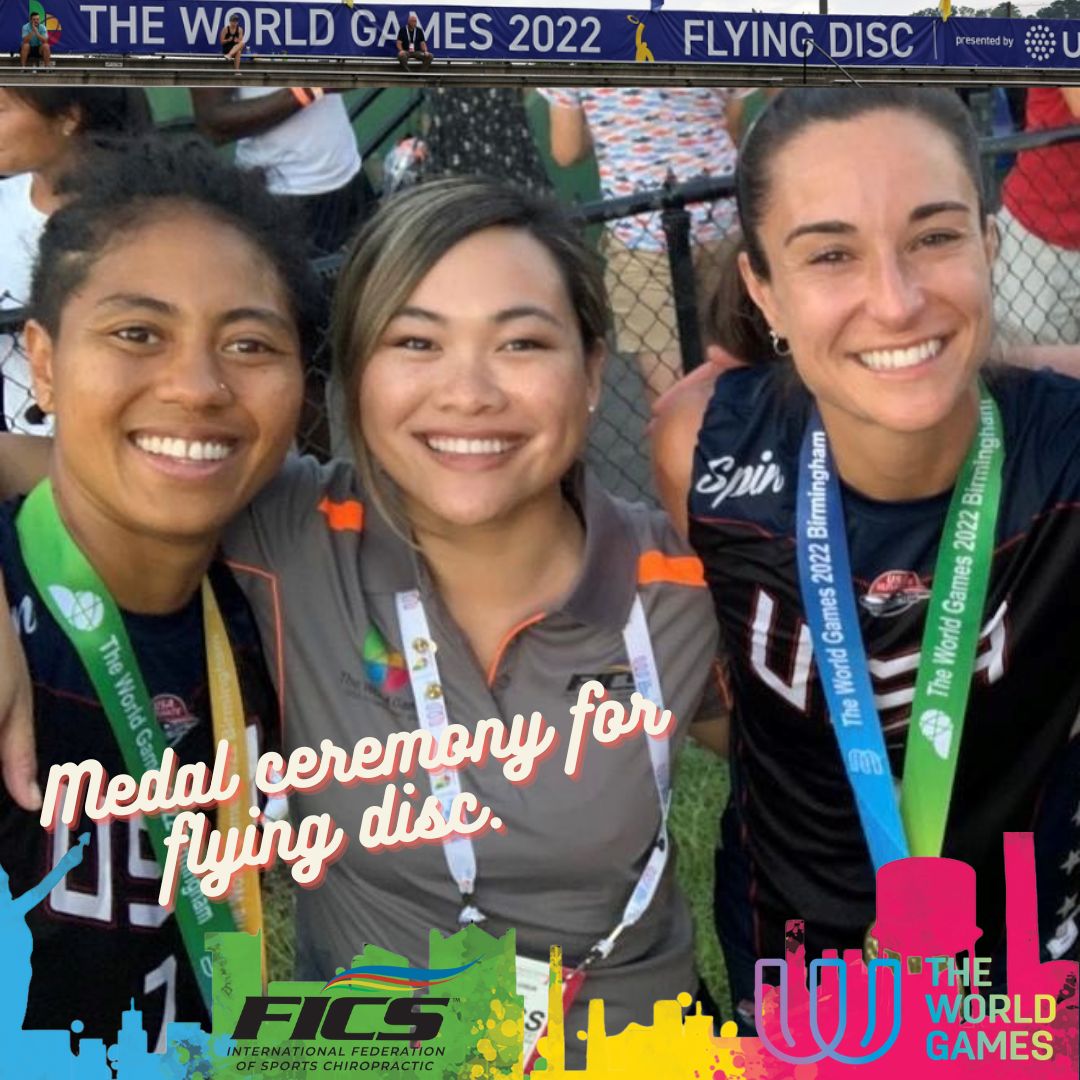 Because of FICS, I have become great friends with many people worldwide, such as America, France, Spain, Germany, and the UK, to name a few. Speaking with some of these chiropractors about their experience in the Olympics and first World Games has been nothing but awe-inspiring. Although I am entering my seventh year of practice, it never ceases to amaze me how much I continually learn from others and the knowledge they find fascinating when I share it. Outside of our shifts, we made time for social events such as team dinners, attending the athlete party, Topgolf, a bit of carpool karaoke, and checking out the artists. Nelly, Big Boi (half of Outkast) and Lupe Fiasco would have to be my favourite. Lionel Richie also made an appearance at the closing ceremony, and he's definitely still got it!
To answer the question, you must be asking: how do I get started?
Get involved with your local Sports Chiropractic Association and volunteer in various community, state and national sporting events. Acquire your FICS International Sports Chiropractic diploma and then prepare to work at international-level events! Additionally, you might like to consider becoming a fellow with AICE for the official sports chiropractor titling and privileges.
Before this, I served on the SCA WA board for five years, from my student to new graduate years. I have volunteered at several events, including but not limited to music festivals, the National Beach Volleyball Championship, Australian Road Racing and HBF Run. Ultimately my sights were set on working internationally to continue doing what I love whilst being an avid traveller. I was locuming across Australia when I found out I was selected for the games, and in that moment, my partner and I started planning our two-month trip across America and Europe. When my time in Alabama came to an end, I hopped on a train to New Orleans to begin our vacation, and we have since continued to Las Vegas, San Francisco and now Mexico. As I write this from my hotel in Cancun, I realise that I am very fortunate to have the time, energy, resources and opportunity to do what I do. And for that, I am so grateful and hope this can be a reality for many others within our profession.
A special thank you to our Chef de Mission Brian Nook and FICS admin Trish Donoghue without whom I would not have had the incredible experience that I did. I also can't forget Bradley Sandler, Simon Lawson, Deb Nook, and Lotte Langhoff, who worked tirelessly to make our experience seamless. Years of liaising with international federations and VIPs, organising logistics and streamlining procedures whilst adapting to ever-changing schedules takes sheer tenacity.
Fun fact: Dr Brian Nook was my lecturer and motion palpation instructor at Murdoch University in 2012. Since then he's gone on to teach at other universities and amazingly he recognised me from a decade ago! 
To sum up my whole World Games experience and first FICS event in a few words, I would choose exciting, meaningful, and rewarding. If I can do it, so can you. What are you waiting for?