Athlete's Journey
Meet Our Speakers
200 + yrs experience treating athletes.
Global knowledge & perspectives.
Mikaela (Mikee) Cojuangco Jaworski
July 2017, appointed as the first Filipino member to the executive board of the International Olympic Committee (IOC). Mikee is the current Chair of the Olympic Education Commission.
At her athletic prime, Mikee won gold medals at the 2002 Asian Games in Busan, South Korea; the 2005 Southeast Asian Games in the Philippines; and at the 2011 International Equestrian Federation World Dressage Challenge.
The popular equestrienne then made her transition to administrative work as a member of the Equestrian Association of the Philippines before starting her work at the IOC. She went to work as part of the coordination commission for the postponed Tokyo Olympics and the 2024 Olympiad in Paris.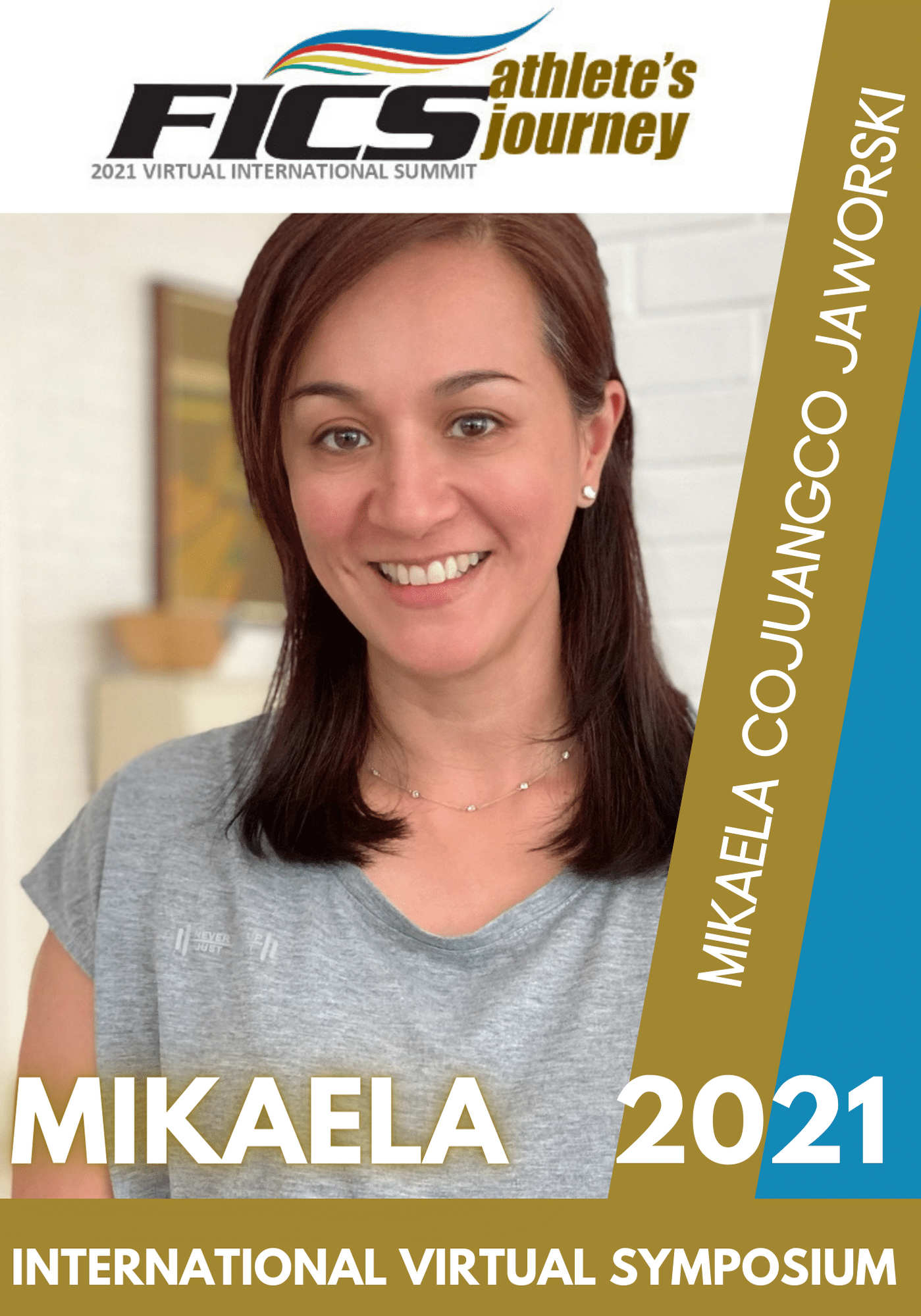 Jill Cook
Ph.D, BAppSci (Phty)
Current Appointments
Professor (research), La Trobe Sport and Exercise Medicine Research Centre, La Trobe University
NHMRC practitioner fellow 2014-2019
Deputy director Australian Collaboration of Research Injury in Sport and its Prevention (ACRISP)
Research Awards
Department of Sport and Recreation research award. 2000 & 2001.
Department of Sport and Recreation research award. 2001
Christine Foss
MD, DC, MS.Ed, ATC, DACBSP, ICSC
Doctor of Medicine:  University of Health Sciences;  2003-2007 – Antigua V.I. BWI
Doctor of Chiropractic:  New York Chiropractic College  1991-1994 – Honor Society Phi Chi Omega Recipient
Master of Science:  Education/ Sports Medicine:  1987-1988 – Old Dominion University, Norfolk VA                               
Bachelor of Science: Physical Education/Sports Medicine 1984-1987 – Montclair State University; Montclair NJ                                   
Brian Nook
DC, DACBSP, ICSC, FICC ICSC
School Dean for Chiropractic and Sports Sciences at Murdoch University for 6 years and Associate Professor at Murdoch University for 10 years. Graduated from Northwestern College of Chiropractic (MN, USA) in 1983 and worked at the school teaching and completing research until 1985
Current Position: Associate Dean of Academic Affairs at Palmer College of Chiropractic West in San Jose.
Diplomat in Sports Chiropractic and have been team physicians at many local, national, and international sporting events. I served as a team chiropractor at 4 Olympic Games (Barcelona, Atlanta and Salt Lake City, 3 All African Games and 4 World Games.
Steven Capobianco
D.C., MA, DACRB, PES
Dr Capobianco, the Sr. Director of Medical Education and author of the book Power Taping: Taping Movements not Muscles, is a national and international renown speaker and holds a B.A. and M.A. in Kinesiology and Exercise Science and a doctorate in Chiropractic Medicine.  Steven is also a diplomate with the ACA Rehab Council, CSCS certified through the NSCA and Performance Enhancement Specialist from the NASM. He has been in practice since 2003 and launched two facilities called Symmetry Sports Therapy and ProjectMove, both sports specific rehabilitation and performance centers focused on integrative therapies for sports, injury prevention, rehabilitation, and enhanced human performance.
Kelley Humphries
DC, MS, EMT-P, CSCS, ICCSP, CCSP
Bachelor of Science in Biology Pre-Medical from Texas Woman's University in 2007. 2008, Master of Science in Kinesiology with an emphasis in Adapted Physical Education and Sport from Texas Woman's University, and in 2014 Master of Science in Human Performance and Exercise from the University of Houston Clearlake. 2014 Doctor of Chiropractic degree from Texas Chiropractic College.
Member of the United States Olympic and Paralympic Committee's (USOPC) National Governing Body Council (NGBC) and Community Ambassador for the USOPC's Council on Racial and Social Justice. Certified Athlete Safety Coordinator (ASC)  the US Center for SafeSport (USCSS) and serves on the USCSS Athlete's with Disabilities Advisory Group. Additionally, serves on the USCSS Climate Survey Taskforce.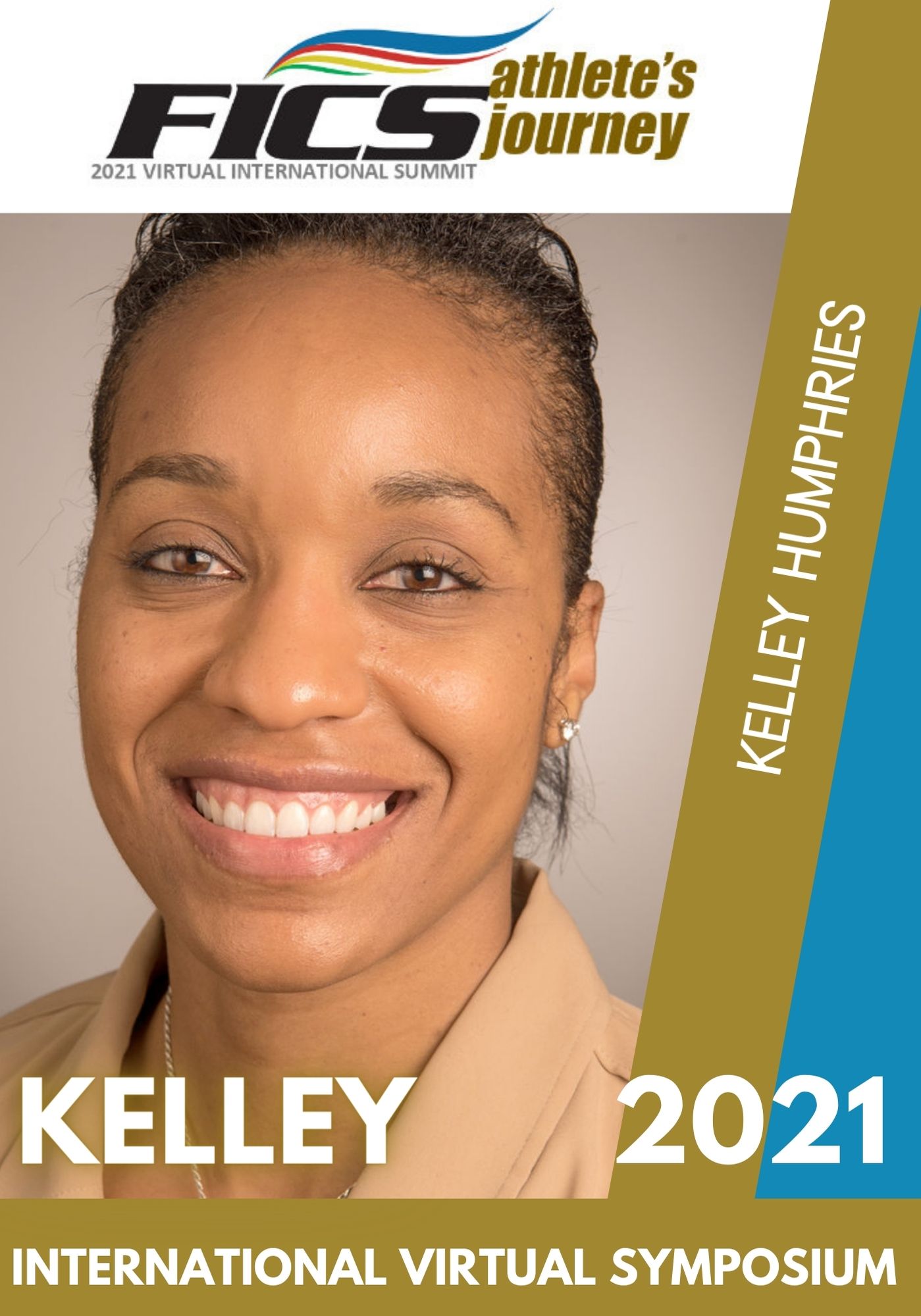 Henry Pollard
DC, PhD, MSc, ICSC
Currently holds an Adjunct professorial position at CQUniversity. Lectured at numerous conferences nationally and internationally in the fields of Chiropractic, Sports Medicine, and Research and has published 130 peer-reviewed manuscripts in medical and chiropractic peer-reviewed journals. Head, Australasian Institute of Chiropractic Education (AICE), a business unit of the Australian Chiropractors Association (ACA). Prof Pollard has been in private clinical practice for the last 34 years, has been an Independent Chiropractic Consultant (IME) for State Insurance Regulatory Authority (SIRA) (Formerly known as WorkCover Authority of NSW) for 18 years and has taught for 30+ years in the areas of orthopedics, sports medicine, clinical management and research at several universities.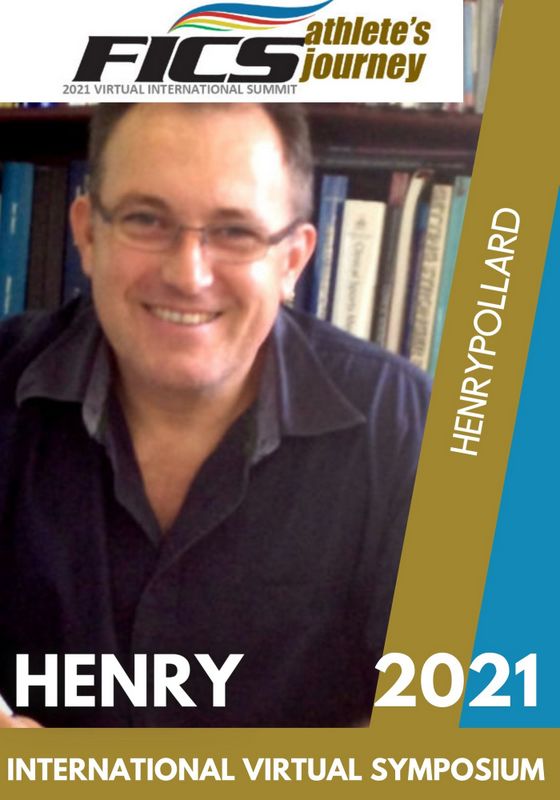 Carla Stecco
MD Orthopedist
Medical degree cum laude in 2002 at the Padua University. Specialization cum laude in Orthopaedic surgery at the Padua University in January 2008.
2007-2014: Assistant Professor M-EDF/02 (Theory and Didactic of Motor Activity and Sport) at the University of Padova, Department of Human Anatomy and Physiology.
2014 – current: Professor of Anatomy (BIO/16) at the University of Padova, Department of Neuroscience.
ACADEMIC ROLES: Teaches anatomy at the Padova University for the physiotherapists (60 hours), medical doctors (40 hours) and Orthopaedic residents (20 hours). Besides, she teaches a course about the anatomical bases of Pilates and Yoga for the motor science (60 hours).
Jim Richards
Ph.D., M. Sc., E. Eng. (Hons)
The focus of Professor Richards' work is to encourage inter-professional research and to develop direct parallels with research to the 'real world' of allied health work.
Professor Richards has authored over 180 peer-reviewed journal papers and written and edited a number of textbooks including Biomechanics in Clinic and Research (2008), the 5th edition of Whittle's Gait Analysis (2012) and the Comprehensive Guide to Clinical Biomechanics (2018). He has also contributed to Tidy's Physiotherapy (2003, 2008, 2012), the 10th edition of Mercer's Textbook of Orthopaedics and Trauma (2012), Experimental Research Methods: A Guidebook for Studies in Trauma Care (2015), Patellofemoral Pain: A Clinical Guide (2017), Forensic Gait Analysis: Principles and Practice (2020), and the Guide to Sports Physiology and Injury (2020).
Dr. Mika Janhunen
DC, ICSC, FIFA.
2007 doctor of chiropractic, Anglo-European College of Chiropractic, Bournemouth, UK. 2014: ICCSD (FICS – International Sports Chiropractic Federation) Course 2014. 2019: ICSC (International Certificate in Sports Chiropractic). 2020 FIFA Football Medicine Diploma.
FICS Marketing Chair; Published works include: Surviving Your Home (2017) and Surviving Your Office (2020). Worked as the team chiropractor for many elite and sub-elite sports and attended the CSR world Games in 2017 as part of the FICS delegation.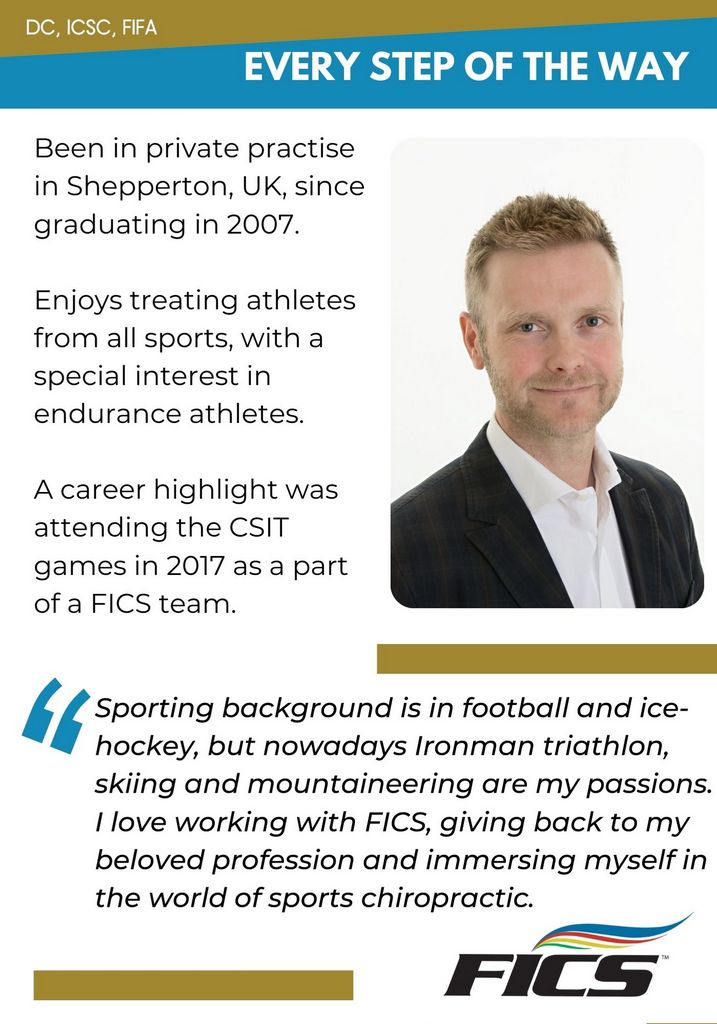 Martin Isaksson
DC, ICSC
Doctor of chiropractic degree from Murdoch University Perth, Western Australia, in 2013. Recipient of two of the finest awards given to chiropractic students in Australia, the Miriam Minty Award and the National Chiropractic Graduate of the Year 2013. His enthusiasm and passion for Chiropractic have been his motivational drive to achieve the best in his profession. Attended his first FICS event in 2011: ISAF World Championships. He received his ICCSP certification at the beginning of 2015 and upskilled to an ICSC in 2019.
Works out of 2 multidisciplinary private practices in Sweden, treating a range of professional Olympic level athletes. Has a strong relationship with other health professionals in sports. Currently the medical director and master instructor for RockTape Scandinavia and holds seminars in kinesiology taping, flossing, cupping and IASTM for RockTape Scandinavia.
Kevin Wilk
PT, DPT, FAPTA
Dr. Kevin Wilk has lead a distinguished career as a clinical physical therapist for the past 37 years, as a leading authority in rehabilitation of sports injuries and orthopedic lesions. He has been significant contributions to rehabilitation research, laboratory research, biomechanical research and clinical outcome studies.
Published over 190 journal articles, over 130 book chapters. In addition, Kevin has lectured at over 1200 professional and scientific meetings in the USA and internationally. Kevin is on the review boards of 11 journals. In 2012, was inducted into the Sports Section Blackburn Hall of Fame. Later that same year he was awarded the APTA Catherine Worthingham Fellowship – the highest honor given to an APTA member. Kevin stated he was humbled & tremendously honored to receive these two prestigious recognitions.
Heidi Weinhold
ND
Education: 2000 Southwest College of Naturopathic Medicine, Tempe, AZ Doctor of Naturopathic Medicine
1996 Washington & Jefferson College, Washington, PA Bachelor's Degree in Biology; 1994 Penn State University, University Park, PA; Honorary Degree 2017 Doctor of Humane Letters, Honoris Causa, Southwest College of Naturopathic Medicine
Awards: 2017 Physician of the Year Award, Pennsylvania Association of Naturopathic Physicians
2013 Alumni Award: Advancing Naturopathic Medicine Award, Southwest College of Naturopathic Medicine Alumni
Published Articles: Multifactoral Approach to Treating Lupus. Naturopathic Doctor News & Review. May 2011. P: 7-8. 
Jason 
Pajaczkowski
Jason Pajaczkowski is a dual chiropractic fellow in the areas of sports sciences (FRCCSS(C)) and rehabilitation (FCCPOR(C)). He is the Head of Research and a seminar lead instructor for Active Release Techniques®, an owner of the SWAT Health group of sports medicine and high-performance training clinics, and an Associate Professor at the Canadian Memorial Chiropractic College. He has been a consultant for several NBA, NHL, NFL, and CFL teams, and has treated athletes at the amateur, collegiate and professional level, in addition to working with numerous Olympic and Paralympic sports and athletes.
He has authored chapters in sports medicine textbooks, as well as articles in various peer-reviewed journals in addition to being a reviewer himself. Jason has been fortunate enough to lecture throughout North America and Europe at various scientific conferences in addition to teaching Integrated Seminar Series worldwide.
Ryan Kendrick
BPhty, MPhtySt (MSK)
Ryan graduated from UQ in 1994 and was awarded his Master's in 2000. He has worked extensively in elite sport including roles as Physiotherapist for Essex County Cricket Club, personal Physiotherapist to Greg Rusedski on the ATP tour and British Davis Cup team and many Olympic, Commonwealth and professional athletes in various athletic pursuits. Ryan has worked in Private Practice in the UK and Australia with a focus on chronic musculoskeletal complaints. He was also clinical tutor in Musculoskeletal Physiotherapy on the Griffith University Physiotherapy programme.
Ryan is the developer of Dynamic Tape and has taught in over 25 counties including professional clubs, universities, the US Army and Navy Seals.
Robert Silverman
DC, MS, CNS, CCN, CSCS, CKTP, CES, CIISN, DACBN, DCBCN, CIISN, DACBN, DCBCN
Chiropractic doctor, clinical nutritionist, international speaker and author of, "Inside-Out Health: A Revolutionary Approach to Your Body," an Amazon No. 1 bestseller in 2016.  His extensive list of educational accomplishments includes six different degrees in clinical nutrition. He maintains a busy private practice as founder of Westchester Integrative Health Center, which specializes in the treatment of joint pain using functional nutrition along with cutting-edge, science-based, nonsurgical approaches.
On the advisory board for the Functional Medicine University, the advisory board for Metagenics and is a seasoned health and wellness expert on both the speaking circuits and within the media, as well as a frequent health expert contributor on national blogs such as Consumer Health Digest.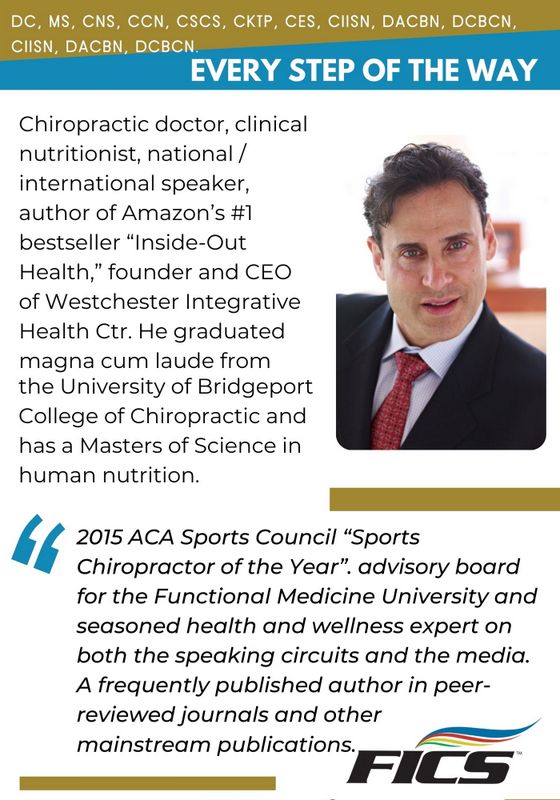 Luke Nelson
DC, ICCSP, Postgrad.Dip.Sport Chiro, M.Sport.Sci, ASCA Lev 1, FAICE
After graduating from RMIT in 2003, Luke has worked in private practice for 17 years. His vision is to provide high-quality healthcare to help keep active individuals and athletes doing what they love! Luke's special interest in treating sporting injuries and in particular running injuries (knee pain, ITB, Achilles pain, plantar heel pain).
Fellow Sports & Exercise Chiropractor- AICE 2019; FICS recognition of service award 2019; A.R.P.P award for excellence in Radiological Sciences 2003; Sports Chiropractic Australia Sports Chiropractor of the year 2016.
Paul Timko
DC, ICCSP, Postgrad.Dip.Sport Chiro, M.Sport.Sci, ASCA Lev 1, FAICE
InReach's founder, Paul Timko, began his career in medical device sales and marketing over 15 years ago as a commercially-focused financial analyst at Radiometer America. 
Most recently, Paul led the growth and expansion of two leading clinical brands, TheraBand and Biofreeze, during his tenure at Performance Health. He has developed a network of leading clinical influencers and distribution partners across the hands-on health care markets. His experiences have allowed him to work with all sizes of companies from small, medium, and large medical device companies to startups to private equity to Fortune 500.
Jordan
Knowlton-Key
DC, MS, EMT, ASP, ICSC, CCSP
Doctor of Chiropractic at Northwestern Health Sciences University and Masters of Exercise Science from Concordia St. Paul University. Completed a two-year Human Performance residency at NWHSU's Human Performance Center where he currently serves as the Integrated Sports Care Coordinator.2018 – Present Concussion-Baseline Testing, Diagnosis & Management Instructor; Advance Upper and Lower Extremity Assisting Instructor; Clinical Skills II: Physical Diagnosis Instructor; Anatomy and Physiology I Instructor. 
Ski Patrol Outdoor Emergency Care and On-The-Hill Instructor at Afton Alps, Part-Time; Contracted Faculty of Practice for Kinesiology and Health Sciences at Concordia University-St. Paul, Part-Time.
Scott Howitt
CSCS, MSc, RKin, DC, FRCCSS(C), FCCPOR
Honors Baccalaureate degree in Physical Education and completed a two-year post-graduate residency in Sports Sciences, a three-year post-graduate program in Rehabilitative Sciences, and a two-year course in acupuncture at the Canadian Memorial Chiropractic College. Member of the core medical team for the 2015 Canadian Pan Am team and works with various amateur and professional sports including the Men's National Soccer team.  Created content for sports medicine courseware, has published numerous research papers, and is a lecturer for undergraduate and post-graduate sports medicine, rehabilitation, nutrition, and fitness. Current President of the RCCSS(C), on the National Advisory Council of EIMC, and a member of the editorial board of the JCCA.
Tim Bertelsman
DC, CCSP, FACO
Dr. Tim Bertelsman graduated from Logan College of Chiropractic with honors and has been practicing in Belleville, IL since 1992. He is a board-certified Chiropractic Sports Physician and a Diplomate of the Academy of Chiropractic Orthopedists. Dr. Bertelsman has lectured nationally on various clinical and business topics and has been published extensively. He is a post-graduate instructor for the University of Bridgeport Orthopedic Diplomate program and is a member of the NCMIC Speakers' Bureau. He was selected as the Illinois Chiropractic Society Chiropractor of the Year in 2019. He has served in various leadership positions within the Illinois Chiropractic Society and currently serves as Immediate Past President of the executive board. Dr. Bertelsman is Co-founder of the online clinical and business resource ChiroUp.com.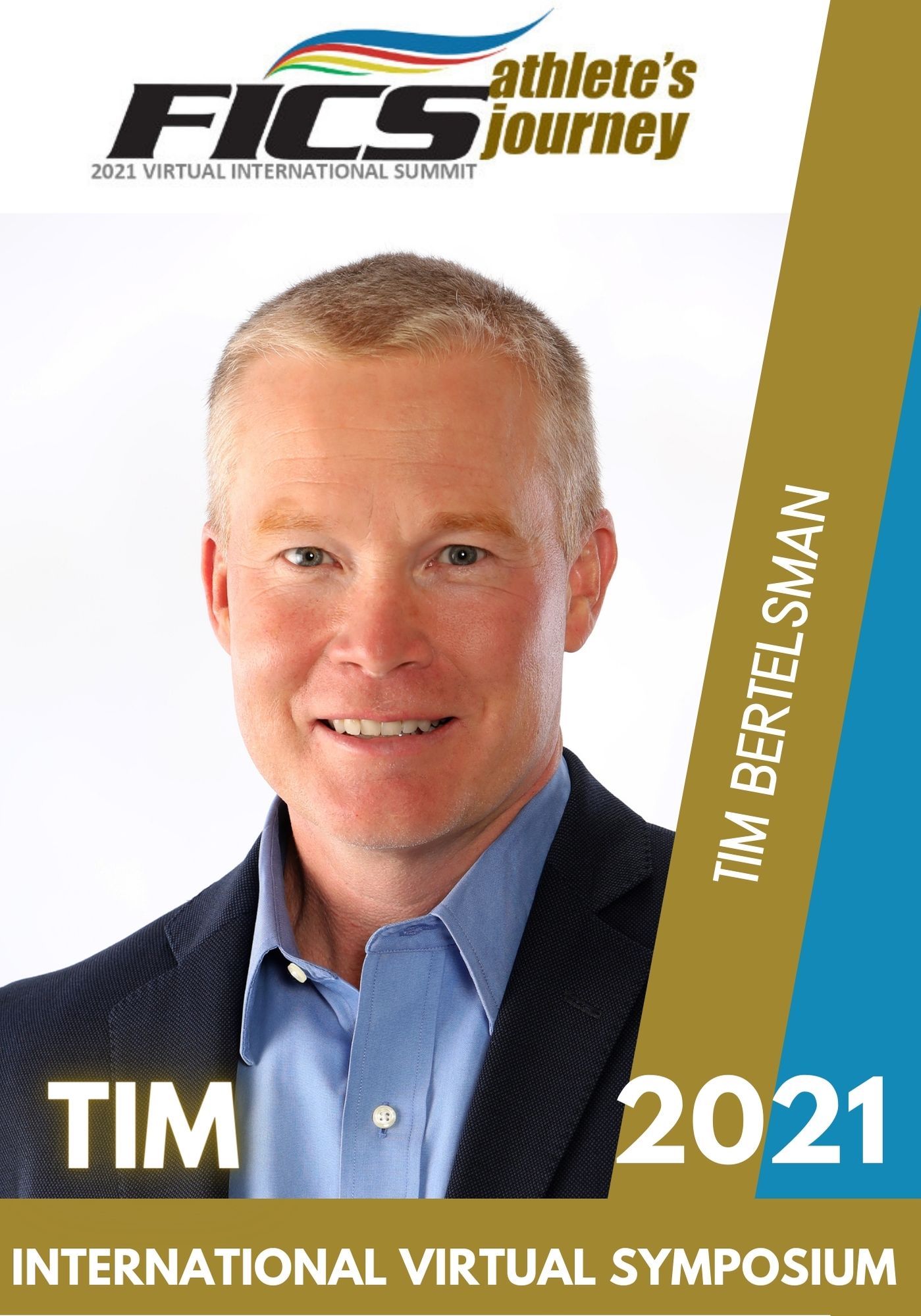 Brandon Steele
DC, DACO
Dr. Steele is currently in private practice at Premier Rehab in the greater St. Louis area.  He began his career with a post-graduate residency at The Central Institute for Human Performance. During this unique opportunity, he was able to create and implement rehabilitation programs for members of the St. Louis Cardinals, Blues, and Rams. Dr. Steele currently lectures extensively on clinical excellence and evidence-based treatment of musculoskeletal disorders.  He serves on the executive board of the Illinois Chiropractic Society.  He is a Diplomate and Fellow of the Academy of Chiropractic Orthopedists (FACO).
Eric Fernandez
Director, PT & Chiropractic Sales at Hyperice, Inc.
As Director of Hyperice's PT & Chiropractic division, Eric is extremely passionate about helping clinics create successful programs for their patients.  He has driven the development of clinical research supporting the science behind recovery modalities as well as created innovative new ways these tools can be utilized to not only improve outcomes but to help grow your practice.  These programs have been successfully implemented in thousands of clinics and help practices increase cash-based revenue, improve the patient experience and increase new patient referrals among other benefits.  He lends his experience from 14 years spent helping companies launch new products, design global marketing campaigns and overcome organizational inefficiencies to act as an advisor to private practice groups.