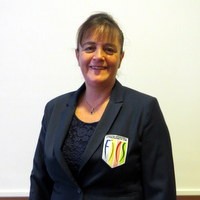 Resourceful leadership professional with extensive experience working in Sports Medicine, Sports Administration, and First Responder First Aid provision spanning over 30 years, coupled with over 15 years experience in education as a lecturer for a range of courses within Sports Medicine Australia (SMA), World Rugby and Canberra Institute of Technology (CIT).
Working closely with the Chief Medical Officer Australian Rugby Union, Trish has been delivering Level 1 World Rugby first responder courses in Canberra Australia. She thrives on maximising the abilities of those around her, unashamedly creating teams of critical and logical thinkers who learn to challenge themselves daily and achieve far beyond what they have before..
CAREER HIGHLIGHTS
Invited Speaker, 2nd Asean Sports Medicine Conference 2018, Kuala Lumpur. Sports Doctors, 2-day first responder course
Invited judge Paramedics Australasia Masterclass and Simulation Challenge
Invited observer World Rugby doctors level 2 and 3 courses
.
CURRENT POSITION
Director of Corranga Pty Ltd – Sports Admninistration, Marketing and Finance Manager for Fédération Internationale de Chiropratique du Sport (FICS) November 2018 – current.

Curriculum adviser, RTO compliance and instructor: Canberra Institute of Technology (CIT) HLT Health Training Packages.
.
KEY ACHIEVEMENTS
Establishment of a formal partnership with the Australian Institute of Sport (AIS) for joint initiatives and joint symposiums.
Partnerships with major Australian Universities, sports and community organisations within Canberra Australia, to be their preferred training provider of first responder courses.
Establishment of Sport Medicine Research Awards to support emerging research.
Management of a professional first aid coverage service to sporting organisations within Canberra Australia.
Partnership with Alcohol Education and Rehabilitation Foundation Australia, to deliver an Alcohol Awareness Program.
Partnership with KidsSafe Australia, and Paramedics Australasia to collaborate on a range of projects.
Review/Moderation and addition to the scope of learning materials, lead the design, creation and subsequent moderation and industry validation of subsequent educational materials.
RTO Auditory and governance compliance. Successfully led Sports Medicine Australia through a National training and education audit.
Partnership with Fukuyama Heisei University in Japan 2007 – 2017, which saw an academic and educational exchange program within sports medicine for Japanese students.
Partnerships with Alliance Sports Pte Ltd, Singapore, 2011 – 2017 to deliver a range of sports medicine first responder courses.
Growth of the Sports Medicine Organisation in Canberra by 900% in revenue.
Establishment of Sports Medicine Australia national community education and training advisory body which draws together a diverse group of sports medicine professionals to oversee the quality assurance of training and education.

.
CORE COMPETENCIES

Leadership
Training and Development
Stakeholder Engagement
Educational Material Creation
Organisational Learning
Commercial Strategy Development
First Response Care
Risk Management
Change Management

.
.
SKILLS AND ATTRIBUTES
Strategic decision-making skills to obtain information and identify key issues and relationships relevant to achieving a long-range goal or vision and committing to a course of action for achieving the goal/vision.
Applies sound corporate governance: Strategic leadership to create and achieve goals through influence on organisational values, individual and group goals, reinforcement, and systems.
Experience in managing budgets and academic programmes (research and teaching).
Builds organisational capability: Proven ability to effectively manage employee performance through mentoring and coaching with monitoring to accomplish work objectives.
Leads strategically with vision: Ability to create a collegiate atmosphere and willingness to take account of diverse views while accepting responsibility for decisions; Ability to set and communicate clear vision and expectations for departmental and individual performance.
Superior communication skills: to enable effective and appropriate interaction at all levels within the organisation and with external stakeholders from staff through to government officials, and the media.
Inspires individual and team commitment in the pursuit of results: Significant interpersonal and influencing experience to build strong and collaborative relationships with internal senior-level staff, peers and team members and with external partners and suppliers.
Commits to personal development: Commitment to nurturing talent, recognising contributions and providing opportunities for professional development.