Recovery and Rehabilitation of the Dancer
Dr Christine Foss, DC, ICSC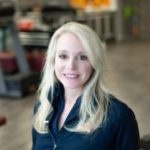 Dr Christine Foss has a Master's degree in Sports Medicine from Old Dominion University, a Doctorate in Chiropractic from New York Chiropractic College and a Doctor of Medicine degree from the University of Health Sciences. She is a certified athletic trainer, Diplomate American Chiropractic Board of Sports Physicians as well as International Certificate in Sports Chiropractic.
COURSE OBJECTIVES:
This course will dive into the strategies and considerations in working with the dance athlete.  Gaining a core understanding of dance as a sport and the foundations of which the dance athlete utilizes his/her body. The class will then review the knowledge of the tools in static and dynamic assessment of the dance athlete.  Looking at movement performance and breaks in the kinetic chain may subject the dancer to repetitive injury.
Understand dance as a sport as well as the different types of dance.
Gain knowledge in injury predispositions of the dancer
Understand static and dynamic strategies in treating the dance athlete
Learner will gain skill in assessing the dancer as unique athlete will variable demands on the human frame.
Meaning of Dance
Dance the Sport
Range of motion and demands for Dance
Common injuries
Foundation of Dance
Footwear considerations and rehab
Rehab for the barefoot athlete 
Progression of Rehabilitation
Challenges of Rehabilitation in Dancers
Physiology of Dancer
Lower Limb
Upper Limb
Sport Specific Training
Recovery Strategy
Return to sport
Putting it all together