FICS CHARITY: Donate to WIN
Prize proudly sponsored by Erchonia Corporation. For every donation you make to the charity, you will go in the draw to win this incredible cutting edge technology, valued at $7,400 USD. FICS Charity supports student scholarships, volunteers at international sporting events, and sports chiropractic research.
FICS Vision: Every Athlete Deserves Access to Sport Chiropractic
For more than 30 years, volunteers from across the globe have worked tirelessly to bring this vision to life, and we have seen a consistent growth in the utilization of Doctor of Chiropractic on the fields and courts of sporting venues across the world. Today it is more important than ever to make the naturally focused approach of sports chiropractors available and accessible to athletes with injuries, and all those who wish to improve their performance. Your generous contribution will help us further this vision, by supporting student scholarships, volunteer doctors at international games, and furthering sports chiropractic research on a global scale. Thank you!
Prize Giveaway: Enter Now & Donate to WIN!
Make a donation to the FICS Charity for your chance to win an Erchonia XLR8 Handheld Cold Laser, valued at $7,400 USD. Every donation earns tickets in the sweepstakes, drawn 30 September 2021.
The Sweepstakes is being run by FICS in partnership with Erchonia to support student scholarships. For every donation you make to the charity, you will go in the draw to win the XLR8 Handheld Cold Laser. Profits from ticket sales will go towards the FICS charity objectives listed below. You may purchase as many tickets as you like to improve your odds of winning, via the buttons below.
Enter NOW! Choose your donation amount:
*Amounts are charged in CHF (Swiss Franc)
The Swiss franc (CHF) is FICS official currency.  It is helpful to know that 1 CHF = approx. 1.05 USD \ 0.92 EUR \ 0.82 GBR \ 1.5 AUD .*The exchange rate of the day can be checked here. https://www.xe.com/currencyconverter/. 
Blank
Click here to read the Giveaway Terms and Conditions
Terms and Conditions of the Prize Giveaway.
Sponsor: The Sponsor of the Prize giveaway Sweepstakes is Erchonia Corporation. https://www.erchonia.com/The Sweepstakes is being run/hosted by FICS – The Fédération Internationale de Chiropratique du Sport, in partnership with the Sponsor to support student scholarships.
Funds: All funds raised from this Sweepstake will be used to support FICS scholarship program. This program facilitates a range of scholarships for chiropractic students to undertake continual education, training and mentoring programs that improve their ability to lead and work with athletes.
Eligibility: The Sweepstakes is open to those who purchase a ticket at https://fics.sport. It is open worldwide, to any adult aged 18 years + at the time of entry, and is void where prohibited by law. Employees, independent contractors, interns, officers, directors, and agents of Erchonia (the "Sponsor") their respective affiliates, subsidiaries, advertising and promotion agencies, suppliers and their immediate family members and/or those living in the same household of each are not eligible to participate in the Sweepstakes. The Sweepstakes is subject to all applicable federal, state and local laws and regulations. Void where prohibited.
Agreement to Rules: By entering the Sweepstakes, the contestant ("You") agree to comply with and abide by these Rules and the decisions of the Sponsor, and you represent and warrant that you meet the eligibility requirements. In addition, you agree to accept the Sponsor's decisions as final and binding as it relates to the content of this campaign. Entrants should look solely to FICS with any questions, comments or issues related to the Sweepstakes.
Entry Period: The Sweepstakes begins at on 01/08/2021 (1 August 2021) at 12:00 AM EST and ends on 30/09/2021 (30 September 2021) at 11:59 PM EST (the "Entry Period"). Entries submitted before or after the Entry Period will not be eligible.
How to Enter: The Sweepstakes must be entered by purchasing one or more tickets at https://fics.sport . The profits from ticket sales will go towards the FICS charity objectives listed on this page. The following donation amounts will earn the following total entries – you may purchase as many tickets as you like to improve your odds of winning.

CHF 50 donation earns 5 tickets
CHF 100 donation earns 10 tickets
CHF 250 donation earns 30 tickets
CHF 500 donation earns 60 tickets
Entries must fulfil all requirements of the Sweepstakes, as specified, to be eligible to win the prize. Entries that are incomplete or do not adhere to the rules or specifications of the Sweepstakes may be disqualified at the sole discretion of the Sponsor. You must provide the information requested. If you use fraudulent methods or otherwise attempt to circumvent the rules of the Sweepstakes, your submission may be disqualified at the sole discretion of the Sponsor.
Prize: The winner of the Sweepstakes (the "Winner") will receive the following prize advertised on this site.
Value: Actual/appraised value of prizes may differ at time of prize award. The specifics of the prize shall be solely determined by the Sponsor. No cash or other prize substitution shall be permitted except for at the Sponsor's discretion. The prize is non-transferable. Substitution of the prize or transfer/assignment of the prize to others or request for the cash equivalent of the prize by the Winner is not permitted. Any and all prize related expenses, including without limitation any and all federal, state, and/or local taxes shall be the sole responsibility of the Winner. Acceptance of the prize constitutes permission for the Sponsor to use the Winner's name, likeness, and entry for purposes of advertising and trade without further compensation, unless prohibited by law.
Odds of Winning: The odds of winning increase based on the number of eligible entries received. The winning ticket will be drawn at random from the total pool of tickets.
Winner Selection and Notification: The Winner will be selected by Random Draw under the supervision of the Sponsor. The Winner will be notified within 7 days of the winner selection via the email address provided when purchasing their ticket. The Sponsor shall have no liability for a Winner's failure to receive notices due to spam, junk e-mail or other security settings or for a Winner's provision of incorrect or otherwise non-functioning contact information. If the Winner cannot be contacted, is ineligible, fails to claim the prize within 14 days from the time award notification was sent, or fails to timely return a completed and executed declaration and release as required, the prize may be forfeited and an alternate Winner selected. Receipt of the prize offered in this Campaign by the Winner is conditioned upon compliance with any and all federal, state, and local laws and regulations. Any violation of these official rules by the Winner at the Sponsor's sole discretion will result in the Winner's disqualification as winner, and all privileges as winner will be immediately terminated.
Rights Granted by the Entrant: By entering information and content in purchasing your ticket (e.g., photo, video, text, etc.), you understand and agree that both FICS and the Sponsor and anyone acting on behalf of the Sponsor or its respective licensees, successors, and assigns, shall have the right, where permitted by law, to print, publish, broadcast, distribute, and use in any media now known or hereafter developed, in perpetuity and throughout the World, without limitation, your entry, name, portrait, picture, voice, likeness, image, statements about the Campaign, and biographical information for news, publicity, information, trade, advertising, public relations, and promotional purposes without any further compensation, notice, review, or consent. By submitting information as part of this campaign, you represent and warrant that your entry is an original work of authorship, and does not violate any third party's proprietary or intellectual property rights. If your entry infringes upon the intellectual property right of another, you will be disqualified at the sole discretion of the Sponsor. If the content of your entry is claimed to constitute infringement of any proprietary or intellectual proprietary rights of any third party, you shall, at your sole expense, defend or settle against such claims. You shall indemnify, defend, and hold harmless both FICS and the Sponsor from and against any suit, proceeding, claims, liability, loss, damage, costs or expense, which they may incur, suffer, or be required to pay arising out of such infringement or suspected infringement of any third party's right.
Terms and Conditions: The Sponsor reserves the right, in its sole discretion, to cancel, terminate, modify or suspend the Sweepstakes should virus, bug, non-authorised human intervention, fraud, or other cause beyond the Sponsor's control corrupt or affect the administration, security, fairness, or proper conduct of the Sweepstakes. In such cases, the Sponsor may select a winner(s) from eligible entries received before and/or after the action taken by the Sponsor if appropriate. The Sponsor reserves the right at its sole discretion to disqualify any individual who tampers or attempts to tamper with the entry process or the operation of the Sweepstakes or website or violates these Terms & Conditions. Any attempt by an entrant to deliberately damage any website or undermine the legitimate operation of the Sweepstakes may be a violation of criminal and civil laws. Should such an attempt be made, the Sponsor reserves the right to seek damages to the fullest extent permitted by law.
Limitation of Liability: By entering the Sweepstakes you agree to release and hold harmless FICS and Erchonia and its subsidiaries, affiliates, advertising and promotion agencies, partners, representatives, agents, successors, assigns, employees, officers and directors from any liability, illness, injury, death, loss, litigation, claim or damage that may occur, directly or indirectly, whether caused by negligence or not, from (i) such entrant's participation in the Sweepstakes and/or his/her acceptance, possession, use, or misuse of any prize or any portion thereof; (ii) unauthorised human intervention in any part of the Sweepstakes; (iii) electronic or human error in the administration of the Sweepstakes or the processing of entries; (iv) technical errors of any kind, including but not limited to the malfunction of any computer, cable, network, hardware, or software, or other mechanical equipment; (v) the unavailability or inaccessibility of any transmissions, telephone, or Internet service; (vi) printing errors; (vii) lost, late, postage due, misdirected, or undeliverable mail.
Disputes: This Sweepstakes is governed by the laws of Switzerland, without respect to conflict of law doctrines. By participating in this Campaign, you agree that any and all disputes that cannot be resolved between the parties, and causes of action arising out of or connected with this Campaign, shall be resolved individually, without resort to any form of class action, exclusively before a court located in Switzerland having jurisdiction. Further, in any such dispute, under no circumstances shall you be permitted to obtain awards for, and hereby waives all rights to, punitive, incidental, or consequential damages, including reasonable attorney's fees, other than actual out-of-pocket expenses (i.e. costs associated with entering the Sweepstakes). You further waives all rights to have damages multiplied or increased.
Privacy Policy: Information submitted with an entry is subject to the Privacy Policy stated on the com website. To read the Privacy Policy, click here.For FICS Policy's, click here.
Winners List: To request a copy of the winners list please contact partnerships@ficsport.org. Requests must be sent within four (4) weeks of the end of the Entry Period.
General: The Sweepstakes is in no way sponsored, endorsed, administered by, or associated with Facebook, Twitter, Instagram, Snapchat, YouTube, Reddit, Pinterest, LinkedIn or any other social networks that are used to share the Sweepstakes. You understand that you are providing your information to the owner of the Sweepstakes and not to Facebook, Twitter, Instagram, Snapchat, YouTube, Reddit, Pinterest, LinkedIn or any other social networks.
Acceptance of Rules: By participating in the Sweepstakes, You have affirmatively reviewed, accepted, and agreed to all of the Official Rules, Terms and Conditions.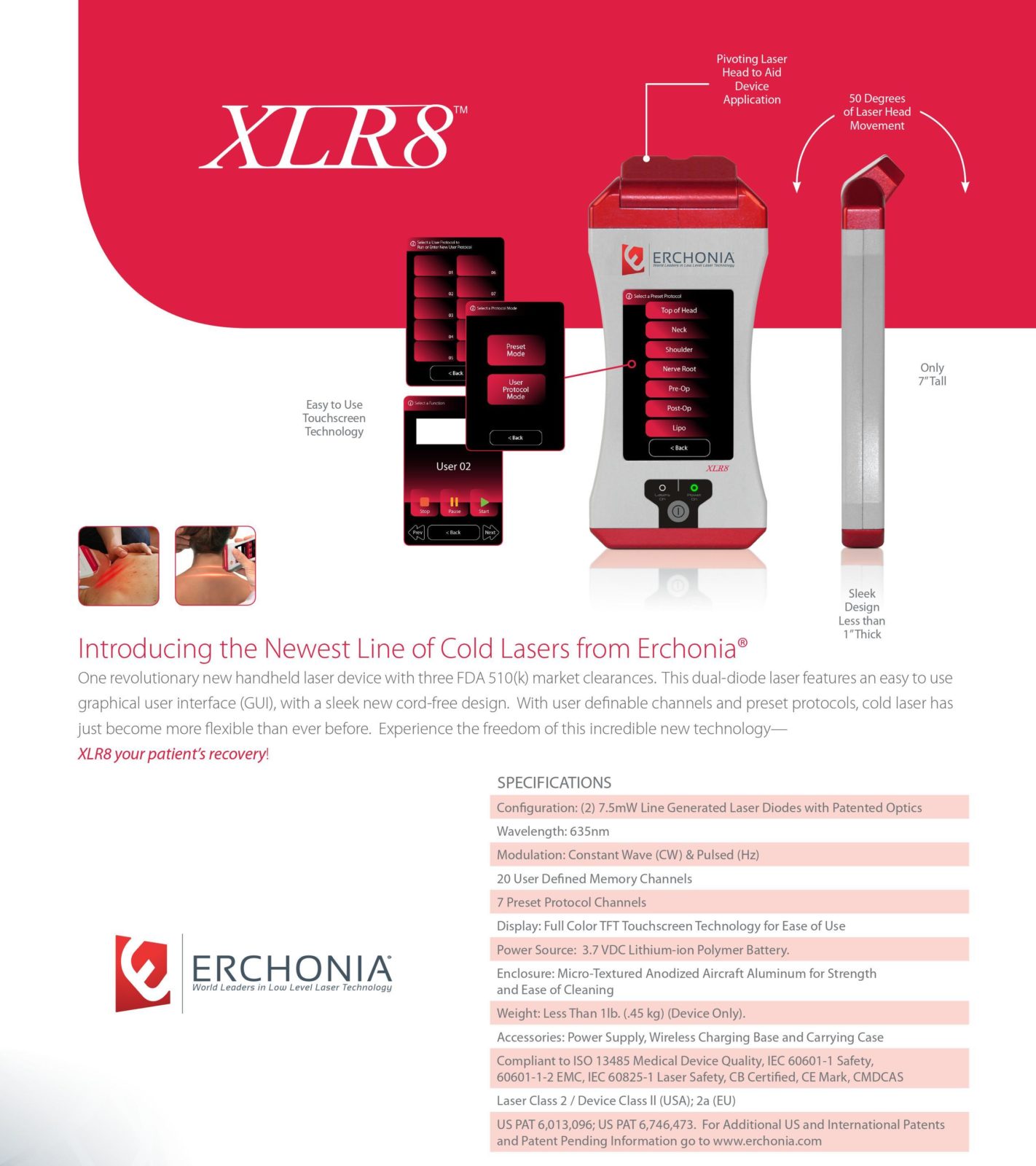 About Low Level Laser Therapy (LLLT)
Low Level Laser Therapy (LLLT) or cold laser, is a painless, sterile, non-invasive, drug-free modality that is used for a variety of conditions such as, but not restricted to, acute and chronic pain, body-contouring, acne and reduction in the appearance of cellulite. NON-THERMAL Laser is proven to be the most advanced delivery mechanism under the LLLT umbrella with the most clinical data, most impressive treatment results, and most expansive scope of practice.
Housed within the mitochondria, the cell energy manufacturer and communication system, are receptors capable of absorbing distinct parameters of light. Think of these receptors like any drug receptors. When we consume a prescription medication, the compound is absorbed by the body and it locates a particular receptor; based upon its molecular edesign, will bind to that receptor.
Once the drug binds, a secondary reaction inside the cell takes place. A similar mechanism is observed when exposing the body to a particular colour of light. During a laser treatment, the light will penetrate the skin and is absorbed by this receptor within the mitochondria. Receptor stimulation with light promotes energy production, biochemical reactions, protein and growth factor synthesis, cell growth and proliferation and enhanced blood and oxygen flow! Nothing Heals Faster®
Join Dr. Robert Silverman LIVE for talks on non thermal low level laser therapy in Sports Chiropractic, and how laser therapy can be applied to your practice.
Furthering the vision that "Every Athlete Deserves Access to Sports Chiropractic", FICS Charity supports student scholarships, volunteers at international sporting events, and sports chiropractic research. The charity trustees may determine a donation to other sports chiropractic initiatives which directly support the mission, vision and values of FICS.
Your donation will be allocated towards the following causes:
We believe that investment in today's graduating students is an investment in the future of sports chiropractic, and for this reason FICS provides a range of support services to students to assist them in their final year of study.
The objective of these funds will be to facilitate a range of scholarships for chiropractic students to undertake continual education, training and mentoring programs that improve their ability to lead and work with athletes.
Working closely with our global partnering universities, which have chiropractic programs recognised by the Councils on Chiropractic Education International (CCEI), the charity mission is to make scholarships available to all chiropractic students. These include financial assistance for tuition fees, postgraduate education, specialised mentoring services, and working experience within sports chiropractic.
The 2021 student scholarship recipients talk about their first impression of FICS and their journey as they make the transition from College into full-time clinic. Dr Johnston talks about the opportunities for students and the mentoring program which FICS has established to support students growth. Click to play video below.
Access to Sports Chiropractic Care at International Events
In line with our vision of making sports chiropractic available and accessible to every athlete, the objectives of these funds will be to support certain expenses incurred by FICS sports chiropractic volunteers at a FICS games event. As determined by the Charity and review of the volunteer's application, financial contributions of under 1,000 £ may be provided per volunteer, attending international events which FICS have a sports chiropractic delegation.
This will be a one-off payment to support the volunteer's out-of-pocket expenses, where they will be providing their services to athletes as a volunteer for FICS. Payments are not used for any loss of practice time incurred by the volunteer, time spent at the games, or other services which they may offer.  All volunteers selected and attending FICS games events do so with no monetary payment for their time. This is an investment in support of the International Federations, the athletes, coaches and officials to have access to sports chiropractic care.
Contributions will only be made once the volunteer has worked at the event. Special consideration for contribution to be provided before an event will only be considered in extreme financial hardship. The decision to award funds prior to service at games will be at the discretion of the charity trustee.
The experience of volunteering at international games and events isn't just about watching the Games, mingling with the athletes or thriving on the positive vibes that the event exudes from every pore. Taking part is as much about cultural-exchange and helping athletes perform naturally, as it is about the event.
Sports Chiropractic Research
The objective of these funds is to encourage and support researchers with novel ideas with seed funding that targets the research goals of FICS. These funds will facilitate support for small research grants/projects, which will contribute to the short, medium and long term goals of establishing a robust evidence base for sports chiropractic internationally.
An application that outlines the proposed targeted use of the funds will be required prior to any funding being allocated. Successful applicants will be required to provide an itemised and justified report on how those funds have been expended and how they have addressed the targeted research priorities of FICS.
– A report to the charity on the use and outcomes of their funding will be required periodically.
– Additionally, the recipient of the funds will be required to fulfil any publication requirements as set by the FICS research commission.
FICS is fostering and developing research. These funds will achieve this by promoting evidence-based research to describe the role of sports chiropractic in athlete care.