Products and Resources for the Chiropractic Practice
One of FICS's major goals in developing relationships with business partners and sponsors is to provide our members with unique opportunities to enhance a sports chiropractic practice. We are proud to partner with like-minded organisations to bring you exclusive discounts on the best chiropractic services and products.
Cold low-level lasers are a great addition to any medical equipment arsenal with a wide range of applications.
Cutting-edge sports medicine and orthopedic devices that prevent injury, accelerate recovery and enhance muscle and joint movement
Hypervolt Plus (With Bluetooth®) Crazy powerful, still quiet, and now Bluetooth® connected. The Plus delivers 30% more power than the Hypervolt, making it the most powerful percussion massage device in the world. The Product features a Brushless high-torque 90 W motor; Patented Quiet Glide™ technology; 3 speed settings (30Hz / 40Hz / 53Hz); 5 interchangeable head attachments; 24 V rechargeable lithium-ion battery, and 3 LED indicators to monitor pressure.
INTRODUCING THE RETAIL PILOT PROGRAM
Drive new revenue through retail sales of Hyperice's in-demand wellness and recovery technology with our new pilot program. As we all adjust to new circumstances, we are proud to offer your clinic a unique and risk-free opportunity. Reference "FICS" when reaching out to Hyperice for this deal.
ChiroUp
Your online resource
Online resource platform that exists to improve clinical outcomes. 
Simplify the way you educate your patients, and then market those outcomes to the people who matter most in your communities. It's an easy to use system which gives you access to valuable resources and materials to:
Review "best practice" evaluation, treatment, & exercises for 100 of the most common patient conditions (comes with video tutorials).
Create customizable condition reports for your patients, to improve compliance & satisfaction.
Market your clinical excellence with automatic Google Reviews & MD initial & release reports.
Track your clinical outcomes & patient satisfaction
Exercise is Medicine
Dynamic Tape Global
Evidence-Based Online Chiropractic Resources
Dynamic Tape Global® provides Biomechanical Taping® products which can be used to modify position & movement patterns, improve function, and reduce strain on overloaded structures. From Neurology to Hand Therapy, our products are trusted by leading clinicians worldwide. We offer 3 different strengths of tape along with PosturePals, our dedicated solution for back posture. Dynamic Tape is a trusted ally for FICS Sports Chiropractics working at international events to assist us to empower athletes to achieve their optimal performance naturally.
Thumper Massager
Massagers are not only indicative of future technological advancements, but they also have a rich past. Indeed, electric massagers first appeared in the early 1970s, when Dr. Lyman C. Johnston, a Canadian Chiropractor invented the first-ever percussion massage device. At this point, Dr. Johnston already established himself as a pioneer in postural research and was able to patent several devices and equipment that were used for posture correction and back pain.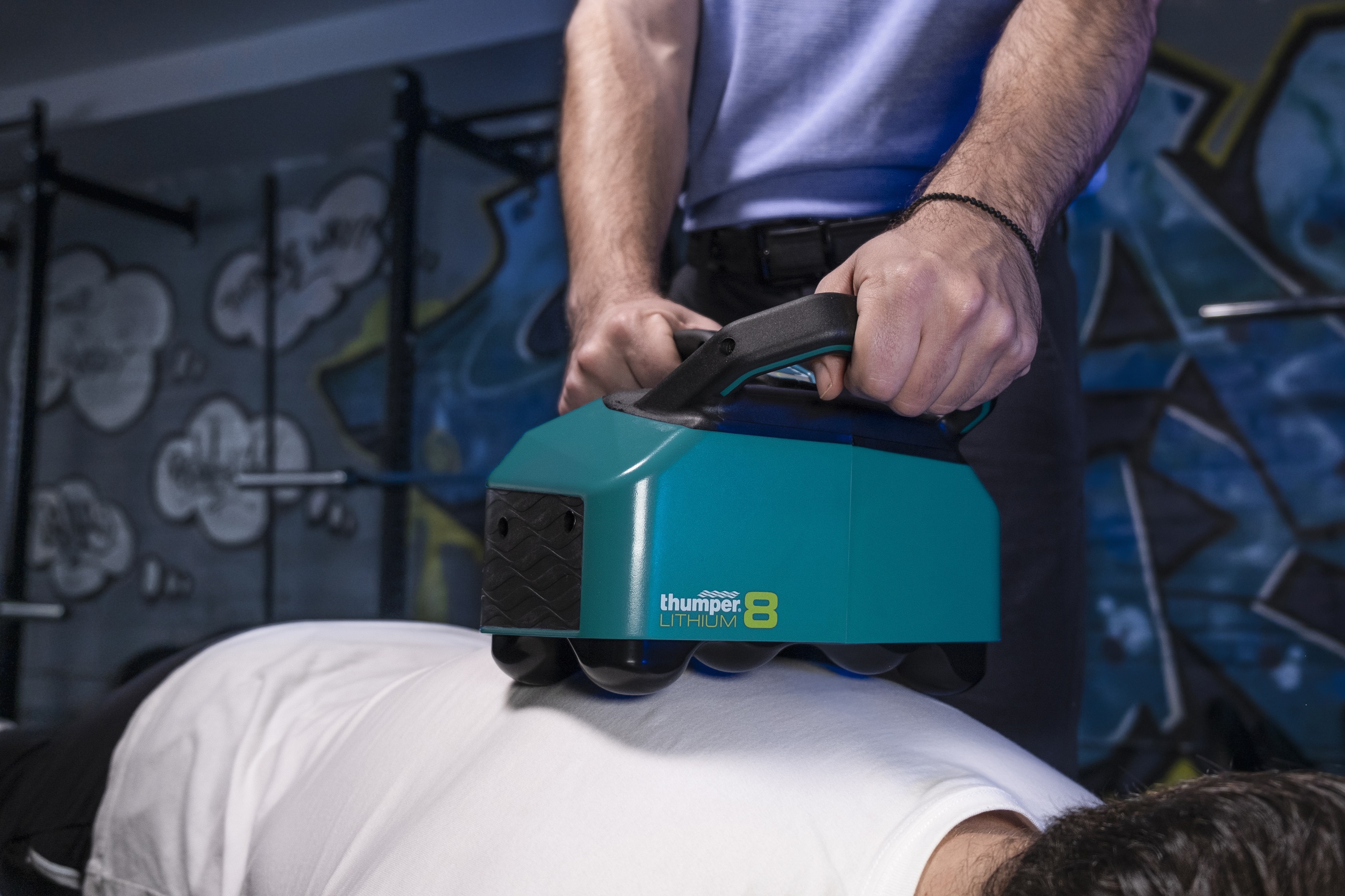 "I have recently gotten the Lithium8 and really love how easy it is to use and the effectiveness of the treatment. This is a must-have for my practice!! The cordless option is a great addition that makes treating on a busy day so much easier to navigate. Thank you, Thumper, for this great addition to my Chiropractic office."
Boiron, a world leader in homeopathic medicines, is best known for its popular Arnicare® line of pain relievers and Oscillococcinum® flu reliever. Founded in 1932 by Jean and Henri Boiron, the company provides a full line of low-risk options to benefit patients and health care professionals in more than 50 countries. As a pharmaceutical company, Boiron maintains the highest standards in manufacturing, complying with U.S. Food and Drug Administration regulations, the <em> Homeopathic Pharmacopoeia of the United States, and drug Good Manufacturing Practices.
ChiroCredit.com has been serving the Chiropractic Profession worldwide for over 20 years.  With over 80 topics and 2000 hours of courses to choose from, all practitioners will find many relevant courses that meet their educational needs.  ChiroCredit.com offers a Diplomate Program in Neurology, Acupuncture Certification Program and a  Functional Medicine and Nutrition Certificate Program.  Visit our website to view all the possibilities!
FICS is partnering with organisations offering products and services which provide chiropractors with the best practice resources, tools, and templates.  It's everything you need in one place. Contact us if you would like to partner with FICS and promote your products.
Call Us
SecGen: (+1) 203 838 9795 (EST)
Admin:  (+61) 417 324 384 (AEDT)
Email Us:
SecGen: secgen@ficsport.org
Admin:  admin@ficsport.org
Sponsors and Supporters support is paramount to FICS' ability to continue to support the International Sporting Federations and increase the number of International Games, through the involvement of Sports Chiropractor teams at multisport games and events.  This is to support the FICS vision "Every athlete to have access to sports chiropractic". We achieve this through facilitating athletes' access to sports chiropractic which involves the treating and preventing of athletes' injuries naturally. Reach out to us today to discuss a sponsorship package to suit your business.