A New View of Sports Injury Care
Changing treatment paradigms of sports injuries
3 December 2022
Meet Our Speakers
50 + yrs experience treating athlete
Global knowledge & perspectives
Distinguished Professor Emeritus Stuart McGill
Stuart McGill is Distinguished Professor Emeritus (after 32 years at the University of Waterloo, Canada) who authored over 240 scientific journal papers, 4 books, and mentored over 40 graduate students during this scientific journey. Investigations in the laboratory, training centre and research clinic probed back injury and pain mechanisms, rehabilitation approaches, and performance training. As a consultant, he has provided expertise on low back injury to various government agencies, many corporations and legal firms and hundreds of professional/international athletes and teams worldwide. He is regularly referred special patient cases from the international medical community for opinion.
His books include Back Mechanic, written for the lay public with pain (also in 20 languages), Low Back Disorders, third edition (2016), written for clinicians, Ultimate Back Fitness and Performance, 2017, written for coaches and athletes, Gift of Injury (2018), a manual for rehabilitating the back-injured strength athlete.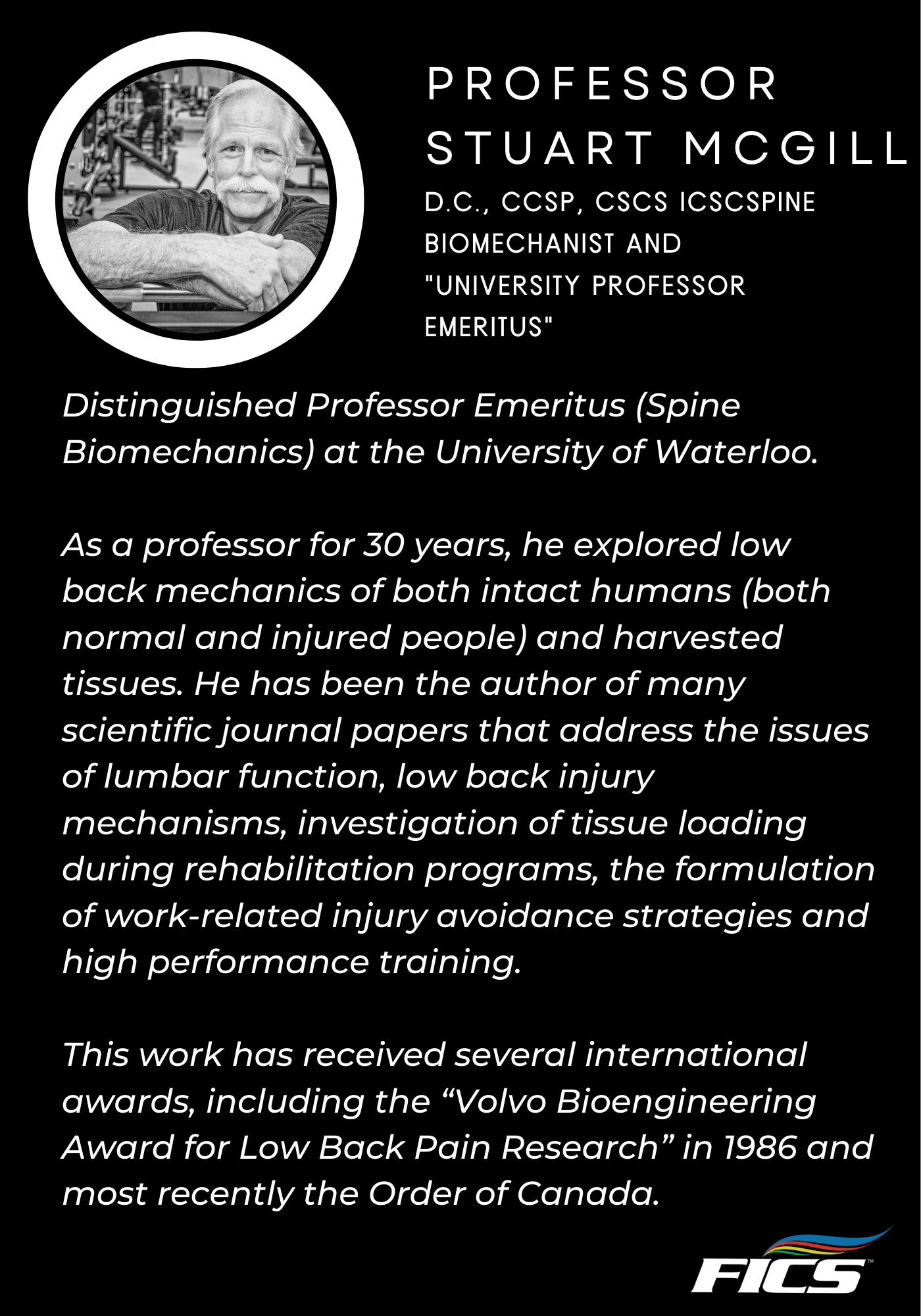 More About Professor Stuart McGill
This website provides evidence-based information and quality products that help to prevent and rehabilitate back pain. All back pain has a cause. Professor McGill dedicated 32 years to investigating how the spine works, the mechanisms of pain, and proven ways to eliminate pain and restore pain-free activity.
Books for back pain
Back Mechanic
 will guide you through self assessment then teach you what to do, and not do, matched to your specific pain.
Is sitting painful?
If sitting creates back discomfort, you have a highly sensitized back, or tissue damage, or both. Avoiding this pain trigger with a support when sitting will reduce the pain sensitivity.
View low back pain supports.
Henry Pollard
DC, PhD, MSc, ICSC
Currently holds an Adjunct professorial position at CQUniversity. Lectured at numerous conferences nationally and internationally in the fields of Chiropractic, Sports Medicine, and Research and has published 130 peer-reviewed manuscripts in medical and chiropractic peer-reviewed journals. Head, Australasian Institute of Chiropractic Education (AICE), a business unit of the Australian Chiropractors Association (ACA). Prof Pollard has been in private clinical practice for the last 34 years, has been an Independent Chiropractic Consultant (IME) for State Insurance Regulatory Authority (SIRA) (Formerly known as WorkCover Authority of NSW) for 18 years and has taught for 30+ years in the areas of orthopedics, sports medicine, clinical management and research at several universities.
Shane Lawlor
B.S.c, DC, M.S.c Sport & Exercise Medicine
Shane is a Sports Chiropractor and an expert in the treatment, assessment and rehabilitation of golf injuries. He has extensive post graduate training in the treatment of sports & soft tissue injuries including low back & functional rehabilitation. He holds a Masters in Sports and Exercise Medicine through the University of South Wales in the UK. His dissertation was on 'Injury Prevalence & Risk Factors in Elite Irish Junior Golfers'.
Shane worked on both the European & PGA Tours for 10 years and his main clients included Padraig Harrington, Shane Lowry, Michael Hoey, Peter Uihlein & Ross Fisher. He has consulted to the Golf Ireland High Performance National junior panels since 2017 assisting with the long term development of Ireland's elite junior golfers. He is currently one of the European representatives for the Federation Internationale de Chiropratique du Sport (FICS) Executive Council. 
Jonathan Mulholland
DC, CCSP, CSCS, ICSC
Licensed and accomplished professional Chiropractor, Exercise Scientist, and Strength & Conditioning Specialist
with proven skills and track record. More than 20 years of experience with athletes of all ages and dealing with a
variety of sports injuries. Have played an integral role in the training and rehab of multiple Olympic medal winners
and professional athletes.
Proven Administrator, Sports Medicine and Educator skills, with a special emphasis on performance enhancement. Sports Medicine Consultant and Lecturer for a number of national and international sports organizations. Ergonomics Consultant for a number of Fortune 500 companies. Former Chief-of-Staff at the largest Natural Health Care Clinic in the state of Minnesota.
Sports Medicine Consultant for the New Zealand, Olympic Cycling Teams and their Team Chiropractor for the 2012 London Olympic Games. Currently, the owner/ director of Ideal Athlete Chiropractic in Plattsburgh, NY.
Paul Timko
DC, ICCSP, Postgrad.Dip.Sport Chiro, M.Sport.Sci, ASCA Lev 1, FAICE
InReach's founder, Paul Timko, began his career in medical device sales and marketing over 15 years ago as a commercially-focused financial analyst at Radiometer America.
Most recently, Paul led the growth and expansion of two leading clinical brands, TheraBand and Biofreeze, during his tenure at Performance Health. He has developed a network of leading clinical influencers and distribution partners across the hands-on health care markets. His experiences have allowed him to work with all sizes of companies from small, medium, and large medical device companies to startups to private equity to Fortune 500.
Paul will head up the panel talking with some sponsors on some of the best products on the market to support your athletes.