FICS 2021 REGIONAL REPRESENTATIVE ELECTIONS
Meet the candidates which are standing for election for one of the five positions on the FICS ExCo, as a representative of their region.
Scroll down to Candidates
FICS Executive Council Regional Representative
In accordance with the FICS Statutes, we present to you the candidates for the FICS Executive Council, 2021 regional representative election.
The candidates standing for election will be presented to the NCSC Presidents at a forum in July 2021 before any voting is undertaken for any region with more than one candidate standing.
The ratification of the elected candidates will be held at the 2021 Annual General Meeting in November 2021. 
The five (5) regional representatives' positions open for election in 2021 and will take office at the  FICS Annual General Meeting according to Chapter III Article 8 of the FICS Statutes will be one position from each of the following regions:
Latin America (one)
Europe (one)
North America, USA (one)
Asia (one)
Eastern Mediterranean (one)
Eligibility
To be eligible to serve on the FICS Executive Council (ExCo) as a regional representative, a candidate must be an individual member in good standing of an NCSC in the region they will represent. It is highly desirable but not mandatory to have previous experience in serving FICS in some capacity or similar experience in a comparable organisation. Individual members are not eligible to serve on the FICS ExCo as a regional Representative. All representatives MUST be a member of their local NCSC.
Previous experience means:
having been a member of the Executive Management Team for at least one (1) year;
Served as a Commission Chair for at least two (2) years; or
Current or past member of a FICS Commission for a total of three (3) years.
Suppose a candidate does not meet the previous experience requirements, and no other suitable candidate is identified for a region that meets the requirements. In that case, this nomination will be put before the NCSC Presidents of the region to vote on whether that person is suitable to represent the region on the FICS Executive Council.
Nomination Process
The individual councils, which make up a region, will send out a call for expression of interest or nominate a representative to be appointed to represent the region on the FICS Executive Council. The appointment of this person is for a four-year term and will act as the liaison between FICS and the region. Contact your local NCSC if you are interested to find out more.
Meet the 2021 candidates
Read more below
NCSC Presidents Meeting - 15 July 2021 - ELECTION UPDATE
2021 ELECTION UPDATE:
It was a privilege to share the meeting with so many of the Presidents who were able to join us on Thursday 15 July 2021.  The candidates outlined their vision for assisting sports chiropractic in both their region, which they will represent and sports chiropractic globally. We have two excellent candidates for the European position, and  I wish them both the best of luck in this upcoming European election.
WHAT HAPPENS NOW?
If any region has any last-minute nominations, you have just under two weeks to have them submitted to FICS admin by COB 30 July. No later applications will be considered.


.

North America, Latin America, Asia and Eastern Medierierran only have one candidate standing. These candidates will be accepted as the nominated regional rep if no objections are lodged about the candidate's suitability or no new candidates are submitted before 30 July. If objecting or questioning a candidates suitability, you need to send an official email from your NCSC president outlining the reason for the objection and as much detail as possible to allow the FICS nominating committee the opportunity to validate your concern.


.

Europe has two candidates standing for ONE position.

A voting poll via the same secure ballot system that FICS used for the AGM in 2020 will be set up.
Only European NCSC presidents will be able to vote for their preferred European rep.
This ballot will open on 1 August, and you will have two weeks to cast your vote for your preferred representative.
Voting will close on Sunday, 15 August.
On or before 30 August, all candidates for the regional rep positions to be finalized
FICS will notify all candidates of the result
Results sent to the NCSC presidents
The outgoing FICS Regional Rep will organize a meeting with the incoming candidate to discuss the position and provide a handover.
FICS will invite the successful candidates to attend the FIC ExCo meeting as an observer.
All candidates to be ratified at the October AGM
Latin American - Maria Mercedes D Acosta Montaño
Nominated by: Federacion Mexicana de Quiropractica Deportiva
My commitment to representing Latin America and the Caribbean is to grow the region, have applications for Sports events, more ICSC certified members.
I want to have a meeting with the Membership Commission and the Sec Gen to design an action plan to contact again the countries that applied before and didn't conclude the process to become an NCSC as Chile and Puerto Rico.
I would like to continue with the process of having the ICSC material translated to Spanish to have more Sport Chiros. I will give all the support for organizing or help to negotiations and invitations to be part of the International events, specially the ones in Latin America.
Latin America and Chiropractic have it's own "rules" and laws depending on the country, so it has to be analized each country independently but I am sure we can have a bigger and better sports Chiropractic Latin community.  Be active at FICS meetings and help however I can to continue with the growth that I 've been seen each year.
Thank you so much.  Mercedes D'Acosta
North America USA - Shea Stark
Nominated by: American Chiropractic Association Sports Council
My goal as the US Representative to FICS is to continue to foster the great relationship between the American Chiropractic Association Sports Council and FICS.  I hope to contribute in the efforts to keep moving sports chiropractic forward in both the United States and worldwide.  I also hope to encourage chiropractors interested in treating sports injuries to obtain their ICSC and work FICS events. 
As the current NCSC president, I have had a direct line of communication to FICS leadership which has given me a unique perspective in how the organization works.  I believe this will be helpful as US Representative.  I have experience working with FICS in many different capacities including being a member of the Membership Commission, Communications Commission and as a founding member of the FICS Student Commission. 
My elite sports chiropractic experience includes national and international beach volleyball events as well as Tae Kwando and rodeo competitions.  I have also worked extensively with adolescent athletes in sports and activities including indoor volleyball, basketball, football, lacrosse, track and field, competitive cheerleading, ballet, skiing and martial arts.  
I look forward to continuing to learn more about FICS and contributing to its success. 
Thank you,
Shea Stark, DC, CCSP, ICSC, EMT
Eastern Mediterranean - Amy Bowzaylo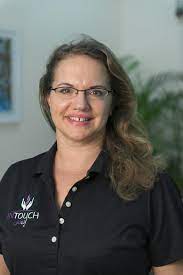 Nominated by: Turkish Chiropractic Sports Council
I became a chiropractor to work in sports medicine and women's health. During my studies I served a term as the President of the Sports Council at PCCW. I now have 25 years experience in Sports Chiropractic including International rugby 15's and 7's, NHL, NCAA hockey, World Cup gymnastics, semi professional soccer, Gaelic football, netball cricket, Ducati super bikes, boxing, triathlon and Formula One.
I have been the Communications Director of the EMMECF from 2006 to 2018. In that time I started a regional newsletter connecting Eastern Mediterranean and Middle Eastern chiropractors to improve communication and improve Chiropractic visibility in the region. I have lived in the Middle East for 20 years; 2001 to the end of 2010 I lived in Saudi Arabia where I became the first president of the Saudi Arabian Chiropractic Association and I worked with the Saudi Health Council to create proper licensure for Chiropractors. From 2011, I have lived in Bahrain where I became the first licensed chiropractor. As part of a multidisciplinary team, I worked with the National Health Regulatory Authority to create proper licensing of chiropractors, which came into affect in 2017 by Royal decree.
In an effort to help integrate Chiropractic into the current medical system in Bahrain I was appointed a member of the Bahrain Chamber of Commerce Healthcare Committee for 2018 and 2019 and I am proud to say that I was the only expat on the committee.
I am currently the Medical Director of the Bahrain Rugby Football Club from 2016.  We have sports such as rugby, Gaelic football, netball, football and cricket. We host the largest Gaelic tournament outside of Ireland where an average of 94 teams come in from all over the GCC.
I currently own (and practice in) the first multidisciplinary rehabilitation center in Bahrain integrating chiropractic physical therapy, podiatry, exercise rehabilitation, manual therapy, prosthetics and orthotics, and speech and language pathology. I am proud to note that in treating one of the female national soccer players we inspired her to become Bahrain's first licensed Bahraini Chiropractor.
As a sports chiropractor it is important to me to help develop the Sports Chiropractic field in the Middle East and in doing so empower women in sport. I believe that this will help Sports chiropractic grow and remain a strong presence in the GCC. I have recently been invited to join BASSMASS, which is Bahrain's multidisciplinary Sports Medicine Society. The future of Sports Chiropractic lies in our ability to integrate into the wider Sports Medicine discipline. I feel I am well versed in this arena and can contribute significantly in the region.
I have also been a member of the FICS marketing commission from 2018 to 2019 and currently serve on the FICS finance commission. I look forward to contributing to FICS and growing Sports Chiropractic worldwide in a meaningful and sustainable way, thank you for the nomination.
Asia - Martin Camara
Nominated By: Japanese Federation of Chiropractic Sportive
I have been serving on the FICS Executive Council as the Regional Representative for Asia elected during the last term. During my tenure, there have been 2 new NCSC's in the region who have been recognized – Malaysia and Vietnam. Have also been able to liaison with our biggest member in the region from Japan, JFOCS and provide them continuing support as their regional rep.
My experience in Executive Boards is as follows. 
President of the Association of Professional Chiropractors of the Philippines

 

Board Member, Philippine Institute of Traditional and Alternative Medicine, Department of Health

 

Member, Subcommittee on Traditional Medicine, Healthcare Technology Assessment Council, Department of Health

 

CEO and Director of Clinics , Intercare Group of Companies

 

Asian Rep – Executive Council of FICS

In sports I was the Co-Chair of the Medical Commission of the Philippine Olympic Committee. I have been accredited as a sports chiropractor for 3 Olympic Games, 7 Asian Games and 5 South East Asian Games.

 
Skill Set I bring to the table: Am currently a PhD candidate in Organization Development and can use my learning to bring more value to FICS. I am the CEO of an Integrated multi-model practice with 5 locations in Metro Manila that combines orthopedic, general medicine, sports chiropractic, general chiropractic, physical therapy and massage therapy. 
Strategic

Open Communication

Leadership Capacity

Fun and Open

Clear
 

Hope to have more ICSC's coming out of the Asia region and have Sports Chiropractics servicing International Games from Asia.
Europe - Shane Lawlor
Nominated by: Sports Chiropractic Ireland
I have been fortunate to work in elite sport for 13 years through my commitment and hard work to pursue clinical excellence. To give back to our great profession, I helped establish Sports Chiropractic Ireland and became an active member within FICS in 2019 when I stopped travelling on the golf tours. I was part of the Finance Commission for nearly two years (2019-2021) and have recently moved to the Education Commission.
The opportunity to apply for the position has come at an ideal time as I have just completed my Masters in Sports & Exercise Medicine through the University of South Wales in the UK. I have two main reasons for wanting to serve on the FICS executive council. Firstly I want to help promote sports Chiropractic locally and internationally, to get the recognition and respect we deserve from all stakeholders in sports medicine. In Ireland, we face many barriers; an example is that of Sports Ireland who oversee the welfare of all Irish Olympic athletes. Currently, they will not accredit Chiropractors as we are not a regulated profession in Ireland. I am trying to improve the situation through my consultancy work with Golf Ireland and Rowing Ireland to change the opinions of Sport Ireland. Secondly, I feel that it's crucial, being an experienced Sports Chiropractor, to pay things forward and help influence and guide the next generation of graduates so we can expand the reach of Sports Chiropractic worldwide.
I have seen many positive changes in FICS over the past three years being a member of the organisation. Given my contributions and time spent with the Finance Commission, I will have all the necessary skills to execute the role of European Representative for the FICS executive council. Further, I have run a successful multidisciplinary clinic for 12 years with my wife Karen. I am conscientious, reliable and extremely passionate about Sports Chiropractic.
I would be delighted if selected as one of two European representatives on the FICS executive council. There is much work to be done globally to make inroads in sports that have placed roadblocks to our involvement and access to treating these athletes. I want to improve the image of Sports Chiropractic in Ireland through building relationships with the sports medicine community. In addition, I want to act as a bridge between each European NCSC to help ensure that they feel that their objectives are being met at a FICS management level. I would make every effort to support each national council fully during my term. Lastly, over the four years, I would love to see full Integration of FICS within the Chiropractic colleges in Europe; this is a critical step to building the membership.
Yours in health,
Shane Lawlor, BSc (Hons) Chiro, DC, ART, DNSP, DNSET
FICS Education Commission
Consultant to Golf Ireland High Performance Panels & Rowing Ireland
Lead Active Release Techniques Instructor
Masters in Sports & Exercise Medicine
Europe - Yngve Rogstadkjaernet - WITHDRAWAL
YNGVE HAS RECENTLY WITHDRAWN HIS APPLICATION and will not be standing for this position.
Nominated by: Norway – Kiropraktorenes Idretts og RehabiliteringsOrganisasjon (KIRO)
I have been fortunate enough to serve on the FICS Executive Council since Ståle Hauge withdrew from his position in 2019. In that time, I have endeavoured to represent the European NCSCs to the best of my ability. I hope to be able to continue this for a further four years.
It was my passion for sport that led me into the chiropractic profession. Working with athletes and sports teams has been the greatest driver throughout my career. I am deeply passionate about sports chiropractic and about the work FICS does at every level: from supporting the national sports councils and organising continuing education, to working with the international sports federations to ensure that every athlete receives the best possible care.
I have been involved with FICS since my student days, assisting in establishing a sports chiro student club at RMIT university in my second year of studies. As well as my work on the FICS ExCo as de facto/interim European Representative, I am also on the Marketing Commission where I now serve as research liaison, working with the Research Commission to present important research through our social media channels.
Outside of my work with FICS I am also currently on the board of the Norwegian national sports council (KIRO) and regional contact for my state/district in the national chiropractic union (NKF) as well as working full time as a chiropractor and running my clinic.
Being situated in Northern Norway, and with the pandemic laying quite significant restraints on travel for the past few years, I have not yet been fortunate enough to visit a number of the European NCSCs. This is something I will work to remedy over the next period, travel restrictions permitting.
When I am not buried in work I am out running, riding my bike or skiing in the beautiful Lofoten mountains, along side my partner, two bonus kids and our dog.  I know that if I am elected, I will continue and build on the great work done by my colleagues in the past and will do my utmost to give the NCSCs in Europe all the support they need and deserve. I wish you all the best for the upcoming elections.
Yours in sports,
Yngve Rogstadkjaernet
Chiropractor DipSportSc, BHealthSc, MClinChiro.
Europe - Mika Janhunen
Nominated by: Royal College of Chiropractic Sports Faculty (UK)
I have been a FICS operative since 2013 and I have seen this organization develop and grow –  I have had the pleasure of influencing the development in my own way, and it has been a tough but enjoyable process that has taken a lot of hours each week. Yet, I would not change it for the world.
I am not one to beat my own drum so much, so allow me to make a simple statement of my involvement in various projects. First I started to make an impact as I took over the chair of the Finance Commission. We were in the middle of restructuring the finances and the financial procedures and I was thrown in the deep end. With help from Graeme Harrison-Brown, Trish Donoghue and Brian Nook we managed to get the finances in order and established new budgeting and spending procedures.
I was then asked to take over the Marketing Commission to revamp the FICS public face and social media. Our marketing reach has grown steadily since then and we are able to get our message in front of thousands of people each month. The Marketing Commission is now running more efficiently and effectively than before, again, thanks go to Trish Donoghue, Megan Jerrard and my awesome team.
I started the FICS Road Shows with Nat Akmens to directly engage chiropractic students at the universities. This project was transferred over to the student commission but it has been on the hold due to Covid-19. Hopefully it will continue as the rules allow.
I was also a part of the FICS symposium organization committee and contributed in bringing the message to the masses, I also presented a lecture and I am now one of the FICS Hands on Seminar instructors. I started the FICS sports chiropractic chat shows in 2020 and these have been well received. My contribution in a handful other projects has been smaller but hopefully well received.
If my application is successful, I will continue working tirelessly for the organization and I will continue to innovate new ways of engaging the profession and pushing sports chiropractic onto the world stage. As a FICS regional representative I feel that my job is to link FICS with the NCSCs, other chiropractic associations and institutions and the educational institutions. My ambition is to develop this relationship into a two-way street, where FICS and other organizations are actively contributing and gaining satisfaction from that. Furthermore, I will actively seek new sponsor contracts and work to broaden the FICS visibility in games and other sporting events across my region. I feel that I have the necessary skill set and experience to do well in this role.
Every athlete deserves access to sports chiropractic.
Sincerely yours,
Dr. Mika Janhunen D.C., M(chiro), ICSC, FRCC (Sport)
Chairman – FICS marketing committee
Principal Chiropractor – Shepperton Chiropractic Clinic Ltd.